.


Trying to pin down Cylinder, analyzed months ago.




Beside Misa Yuki, in Nurse Medical Log of Obedience, File.02 [RBD-496]

Cylinder had the second largest male part; the primary male actor was this fellow:




I don't remember him, but he must carry weight as a JAV actor, having the meatier part.

(I feel like calling him Mushman.)

EDIT: I've also caught him playing a bad father-in-law in [RBD-16].
EDIT: Electromog tells us Mushman is Hibino Tatsurō ( 日比野達郎 ).

EDIT: JUC-234's screen credits must have featured Mushman, but there was no match with what is above.



At any rate, after the female star's big end credit (in RBD-496) came these two:




Logic dictates the first name is Mushman's...

And — the second one must be Cylinder's.

To round this post off, the remaining credits may be seen in the second photo below. The movie's third big role (non-sex) was Sleazy, analyzed here. (Here's Sleazy, from that link. )




So the top name is Sleazy's. (Seen below, from RBD-496.)




Notice how stylized the lettering is for RBD-496's end credits (the two names for Sleazy barely resemble one another), which makes me fear deciphering Cylinder's name may not be simple.

As reference, I am guessing the last name belongs to this actor, whom I do recognize from other JAVs:




A better look at his face, from RBD-587:




EDIT:
Just noticed that Kessari had brought up this actor earlier. Referring to him as "The Husband," Kessari made a point of what a loser the characters he plays can be. That is primarily the sort of role I've noticed him in, so let's name him

Loser

.

EDIT:

Credits for RBD-788, where Loser played a co-anchorman:




Note the third name is a match with Loser's name from RBD-496, provided above.


EDIT: Electromog tells us Loser is probably Shinjō Masayuki ( 新庄雅之 ).

Later EDIT: SHKD-681's English screen credit spelling: Sinjo Masayuki... and since the other names were presented with first name first, it's possible his first name is Masayuki. (The name was presented as
"Masayuki Sinjo.")

EDIT: RBD-803's English screen credit was Masayuki Shinjo, providing further probability that "Masayuki" is his first name, and not his last.

As a note, the first name in RBD-788's credits (which came after the separately-presented actress' name) must belong to the actor shown below, who played the villain.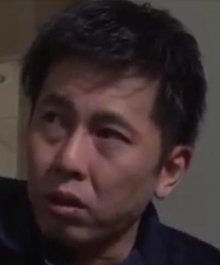 (Please click to enlarge)
.
Last edited: