My ambition is to only create threads that has a long life. So let's see if we could sustain interest in single idol threads.
I've been a huge fan of Mao Hamasaki 浜崎真緒. OK she is not even top 5 on the hottest idol ranking. Her face is good looking but not at all eye-popping beautiful. Her figure is very good but just a tiny bit flabby to be consider Goddess.
But what makes me a huge fan is, compare to the hottest idols, she can do anything. Firstly she's in a lot of group vids and group sex scenes. Even making regular releases for Hunter etc in their fake amateur vids. Another thing is she does all the sex acts I can ask of my fav idols, particularly anal sex. Actually amongst the currently-active idols who does anal scenes, I think she's by far the hottest one.
But some of the hard core vids she do... worry me a bit... No she doesn't do anything particularly extreme or revolting, but she perform some scenes with so much intensity, that I honestly worry about her mental state.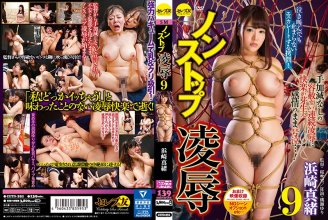 In a earlier post I mentioned her crying uncontrollably in a post-shoot behind-the-scene extra. (I will find my old post and link here). This time it's CETD-291, same studio, same stud and possibly the same director/producer. Celeb Friends make these S&M vids that's relatively close to my preference of S&M, but when Mao Hamasaki do them, I kind of cringe. I'm not gonna waste time writing out what I saw (what I think I saw), you just go download the vid and especially watch the behind-the-scene extra at the end.
I went wow, this is the closest I've ever seen of "mindbreak" as in hentai manga. What's going on, is she a bit mental? Is it just acting? Does she willingly go borderline mad to make these scenes? By comparison, Aimi Yoshikawa make similar S&M scenes but her behind-the-scene appearance suggest it's just simple acting for her. Or is it all just a set up, she acts crazy for these behind-the-scene shots as a charade or performance.
Seriously I wish she's faking it, if not, I wouldn't be surprise if one day she have alcohol or drug overdose or slash her own wrist or something. Obviously I hate that to happen. I'd be much happier if she make those S&M/r*** scenes less real but have a long career and long and happy life.
Last edited: