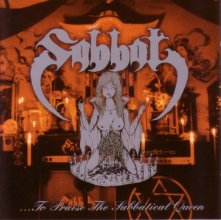 SABBAT
...To Praise The Sabbatical Queen
Country:
Japan
Year:
2004
Source:
CD
Label:
Iron Pegasus Records
Catalog Number:
I.P.038
Ripped With:
EAC (Secure And Test) with LOG and CUE
Format:
FLAC
Tracklisting:
1 Gok Kan Ma
2 Snow Woman
3 Kamikaze Bomber
4 Satanician
5 Flame Of The Circle
6 Possessed Hammer
7 Black Metal Horses
8 Splatter
9 Mion´s Hill (20th Epic Gezol Version)
10 Black Fire (20th English/Japanese Version)
11 Arizigoku
12 Evoke The Evil
13 Reversed Bible
14 Envenom Into The Witch's Hole
15 Disembody To The Abyss
Black metal band from Japan. It can be said that the story of SABBAT started in 1983 when a band called EVIL consisting of Gezol (b), Ozny (g), Elizaveat (g) Valvin (d) and Toshiya (v) was formed. Except for Ozny the rest of the guys had been playing together since 1981 in high school bands like ABURAMUSHI, HOT ROD and BLACK BEAST. With the high school bands the name of the game was mostly playing covers of NWOBHM acts like IRON MAIDEN and DEMON but with EVIL the aims were immediately set higher. The band started to write material of their own and the first gig was played in August 1983.
Still active band. Released numerous ep's, splits, albums, live gigs etc. They were so much appriciated that fans made they own label called evil records wich releases older stuff of Sabbat on vinyl.

Guitars:
Ozny (1983-1986)
Elizaveat (1983-1991) (Metalucifer, Blind Witch)
Temis Osmond (1991-2005) (Also Vocals & Keyboards) (Blind Witch)

Drums:
Valvin (1983-1985)
Samm (aka Gero) (Shinji Tachi) (1985-1990) (Magnesium, Sacrifice (Jpn), Metalucifer)

Session Musicians:
Shige (1985 rehearsal only) - Drums
Possessed Hammer (1989 one gig only) - Vocals
Barraveat (1989 one gig only) - Guitars
Shaxul - Vocals (On ``Sabbatical Magicrypt`` EP) (Annthennath, ex-Hirilorn, Arphaxat, ex-Deathspell Omega, ex-Barbatos (Live), Surrender of Divinity (Live member))
Yohta Takahashi - Backing Vocals (On ``Sabbatical Magicrypt`` EP)

Samm & Gezol are brothers.

In September '87, Sabbat played a farewell live show, later on released as the "Live Curse" album. Gezol kept on releasing 7'' EPs of previously recorded material every year. In 1990, Gezol decided to reform Sabbat.

Long time member Temis Osmond left the band in November of 2005 after 14 years with the band. He could not continue on with full dedication to the band and also his private life.
One of the oldest Black thrashing hordes of this planet celebrates its 20th anniversary. The band I am talking about is no other squad than Japanese cult act SABBAT. These warriors unleash a nice piece of blackened thrashing fucking Metal upon mankind in form of their "To Praise The Sabbatical Queen" album. There is no need to introduce them anymore. I guess every serious headbanger is familiar with them and any further comments would be like carrying coals to Newcastle. To be honest I have lost the overall view of all SABBAT's releases as they are too numerous (not sure but there must be about more than 80 CDs / 7" / LPs / split stuff / demos etc.). This CD here features 15 tracks of re-recorded versions of some of their old classics 'Black Fire' or 'Mion's Hill' as well as some other well known and not so well known tunes. Also it includes a cover version of NOKEMONO called 'Arizigoku' (NOKEMONO was an old Japanese Hard Rock band which released a nice album "From The Black World" in 1979, their style was similar to very early JUDAS PRIEST stuff if I remember correctly). Furthermore you also get four live tracks which were recorded at Music Farm on their BM Tour '95. The live tracks have a very good sound quality... I am just wondering where the live atmosphere is (no crowds shouting, announcements etc.)... maybe live in the studio, hehehe (or soundboard recording? - Frank). Anyway all tracks are performed in the typical sabbatical style and are very well executed, so there's no complain about them. What I like is the fact that SABBAT swing the axe total untrendy and this for ages. They kick a lot of wanna-be bands of this genre into the gutter. The sound quality is good and the packaging and presentation is top notch like we are used to know it from Iron Pegasus. So this piece of Metal art is essential for every die hard SABBAT maniac to complete the collection and to any Black Thrashers out there who enjoy listening to solid and entertaining stuff. - Voices From The Darkside