DISCLOSE
Raw Brutal Assault Vol 1 : Discography 1992-1994
Country:
Japan
Year:
2003
Source:
CD
Label:
No Fashion HC Records
Catalog Number:
NFCD-024
Ripped With:
EAC (Secure And Test) with LOG and CUE
Format:
FLAC
Tracklisting:
Crime Demo
1-1 Never 1:29
1-2 Anti-War 1:55
1-3 Warcloud 1:51
1-4 Destroy 1:27
1-5 No Religion 0:36
1-6 Horrendous 1:07
1-7 War Games 1:29
Crust And Anguished Life Compilation CD
1-8 Nightmare 1:30
Conquest Demo / Split Tape With Insane Youth
1-9 Conquest 2:04
1-10 Victims 1:55
1-11 The Report Of... 1:10
1-12 In Fact 1:44
1-13 Attack The Enemy 1:13
1-14 Explosion 2:18
1-15 The Problem 0:44
Fear Of The War Demo
1-16 Fear Of The War 1:53
1-17 Hellish View 1:27
1-18 Tragic Scene 1:13
1-19 No Crime 1:44
1-20 Leader Of The Fuckin... (SHITLICKERS) 0:51
1-21 Children Not Knowing Peace 1:44
1-22 Indiscriminately Kill 1:11
1-23 Crying Children 1:37
Unreleased 1994 Demo
1-24 War Of Aggression 2:05
1-25 Victims Of Warning 3:27
1-26 Brutalities Of War 2:52
1-27 The End Of Blood 1:38
1-28 Burned Alive 2:16
1-29 The Report Of A Gun 0:54
1-30 Attack The Enemy 0:52
1-31 Avskaffa Alla Jobb (SVART PARAD) 1:42
Live December 1992
1-32 Never 1:56
1-33 No Religion 0:48
1-34 Terror Struck 2:03
1-35 Explosion 2:20
1-36 Its Not TV Sketch 1:33
1-37 Destroy 1:32
1-38 The Report Of... 1:14
1-39 Horrendous 1:19
1-40 Nightmare 2:01
1-41 Conquest 1:56
1-42 Attack The Enemy 1:11
1-43 Anti-War 2:43
1-44 Victims 2:00
Once The War Started 7"
2-1 The Bombardment 1:35
2-2 Once The War Started 1:32
2-3 Dooms Day 2:12
2-4 Surrender 1:26
2-5 Slaughter House 1:27
2-6 Forget 1:16
2-7 Crying Children 1:44
Split 7" With Insane Youth
2-8 Realities Of War 2:04
2-9 No Crime 2:04
2-10 Fight Back (DISCHARGE) 1:24
The Demo's LP
2-11 Tragic Scene 1:15
2-12 Searching For Water 2:27
2-13 Massacred People 2:31
2-14 Why Should They Die? (DISCARD) 3:12
2-15 Terror Struck 2:05
2-16 Poaching 1:20
2-17 Nightmare 2:06
Live At C.S. Kichi-City 30 October 1993
2-18 Never 2:02
2-19 The Bombardment 1:37
2-20 Once The War Started 1:23
2-21 Conquest 1:58
2-22 Doomsday 2:08
2-23 Realities Of War 2:05
2-24 No Crime 2:02
2-25 Surrender 1:21
2-26 Slaughter House 1:20
2-27 In Fact 1:46
2-28 Fight Back 1:17
2-29 Tragic Scene 1:20
2-30 Forget 1:19
2-31 Crying Children 1:34
Brazilian version limited to 1,000 copies. Contains material from 1992-1994:
"Crime" Demo Tape: released April '92. Less than 100 copies made.
Crust And Anguished Life-International Compilation CD: recorded at N.D. 24/08/1992, released by MCR Company in '93.
"Conquest" Demo Tape (also released as a Split Tape with Insane Youth): recorded on a 4-track recorder at the rehearsal studio, February 1993. Sold at gigs only.
"Fear Of The War" Demo Tape: limited edition of 250 with badge and patch on Crust Records.
1st/2nd Demos & Live Tape: first 2 demos & live December '92 compiled on one tape. Distributed worldwide.
"Once The War Started" 7" EP: 500 copies on Overthrow Records in '93. Later reissued on Split LP with Hakushi by Love & Hope Records.
Split 7" w/ Insane Youth 700 copies on MCR Company in '93. Later reissued on Split LP with Hakuchi.
The Demo's LP: recorded at the same time as the first EP. Previously available on several compilation tapes. Later reissued as the Demos Album by Love & Hope Records in '95.
Unreleased 4th demo: recorded live in studio, winter '94, on a 4-track.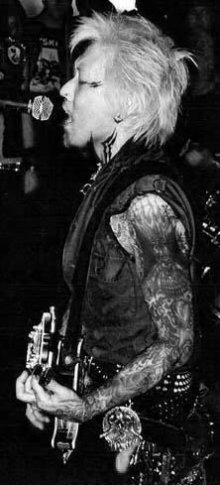 Disclose was a Japanese hardcore punk band heavily influenced by British punk band Discharge. They existed from 1992-2007.

Disclose uses the infamous D-beat drumming style and are sonically and lyrically considerably one of the closest and most extreme adherents of the style. Their sound is very similar to that of Discharge, with an increased use of fuzz and distortion guitar effects. The subject matter is also similar to Discharge - the songs are primarily about nuclear war, and its horrific consequences.

Tragically, on June 5, 2007, Kawakami died in his apartment from an overdose of alcohol and sleep pills, thus sadly spelling the end of Disclose.

Members and former members include: Kawakami (vocals & lead guitar), Tsukasa (vocals), Fukugawa (bass guitar), Yasuoka (bass guitar), Yousei (bass guitar), Hiro (drums), Fujiwara (drums), Uo-Katou (drums), Aki (drums) & Naoto.
DISCLOSE INTERVIEW from Mangelslakt Zine
Well this interview is generally up to date but Disclose has released a couple of things since the time I interviewed Kawakami. The "Aspects of War" 10" and Cassette are now out which consists of some older demo material which is fucking brutal-- check out the review for info on the cassette, but the vinyl for you narrow minded fukkers is available from F.F.T. Records Asahi Plaza Umeda 1212, 4-11 Tsuruno-Cho, Kita-Hu, 530 Osaka, Japan. Also available is the "No More Pain" Disclose comp LP on Your Own Jailer records Marmorv 14B, 752 44 Uppsala, Sweden. Also available is the early 7" some of us still remember on Overthrow (address is above). Disclose have also been on numerous compilations such as the mammoth Iron-Columns 2XLP on Mind Control. That should be easy to find on mailorder at Vacuum or whatever. I go pretty far back with liking Disclose. I got into them like 4 years ago or maybe 5 when they put out a demo on JapanKore records (the drummer from Drop Dead's label/ zine) which some people may remember. They impressed me back then with their intensity, total fucking wall of noise guitars, and wounded- animal vocals. One of the thing I like best about Disclose is that they are totally unpretentious unlike the vast majority of hardcore bands-- they just do what they do, and do it well. They stand tall above the hordes of Disbands.

MS: When did Disclose begin and what kind of band did you want to form?
Kawakami: We started with 4 members in 1990. The first name was Dehumanization, and we sounded like raging crust, but I wanted to play d-beat style. It was influenced by Discharge, Anti Sect, Varukers, Onslaught, Anti Cimex, Shitlickers, Mob 47, Svart Parad, etc. (Swedish HC) There are lots of great bands. Of course Crucifix, Final Conflict, Diatribe, and Iconoclast too.MS: Are you only into Swedish and Finnish raw HC or do you listen to other stuff too? Any new stuff?K: No! We are not only into Swedish and Finnish stuff. I wrote the previous question about that. But we listen to punk rock (early/77 to 80s.)Menace, Cocksparrer, Special Duties, Blitz, Amebix, Sacrilege, Axegrinder, Spain, Norway, Italy, Belgium, Denmark, Yugoslavia, South America, Brazil, Peru, Colombia, Mexico. Mostly I'm listening to powerful raw HC punk. I think some good new bands are Chaos CH., Snifter, Kurbits IR, Times Square Preachers, Cumbrage, Dismachine, Negative, Uutuus, Wind of Pain, Katastrofialue, Heartline, Cul De Sac, Homo militia, Guernica y luno, Toxic Bonkers, Silna Wola, Corpus Christi, Unhinged, CBU, Substandard, Nerves, Aftermath, Masskontroll, Defiance, Kill the Hippies, Autonomy, Timmy, Casualties, Public Nuisance, Aus Rotten, Code 13, State of Fear, Coexist, Broken, Warpath, many

MS: What do you think of the Japanese HC scene and what Japanese bands do you play with?
K: Japanese HC punk scene isn't very ggood but Japanese style bands don't play with us-- style, UK style. We play with UK style bands

MS: Do you think Discharge style bands are getting OLD?
K: Umm, lately Dis style bands are boring. Some Dis bands are playing into fashion. We are not Dis style for fashion. We really really love Discharge.

MS: Do you like Japan?
K: No! But Japan is not dangerous. Oh but prices are very high! A 7" record is 1000Y= $10 US! CD is 2500Y= $25! Fuckin shit! Crazy!

MS: What releases do you have and where are they available?
K: We've released this stuff:"Once the War Started" EP"Kochi City HC" EP with Insane Youth"Tragedy" LP. Those are all sold out. Those now on sale:split 7" with CBUsplit 7" with Hellkrushersplit 7" with Selfish"Demos album" LP"Meaningful consolidation" comp 2x7"split 7" with Homomilitiasplit 7" with Warcollapsesplit 7" with Los SommosTragedy repress.

MS: Why do you sing in English? Why not Japanese?
K: I think English is better than Japanese. Because foreign country people can read and understand English but not Japanese. Also UK style HC is better than Japanese, ha!MS: How has the line-up changed?K: In '90 the line up was 4 members. And a vocalist and bassist left in 92. The new bassist Fukugawa joined. I sung and played guitar. And in '93 the drummer left. Then our backup drummer filled in. He was temporary. Then we found a new one for 6 months, and now we have no drummer! So we couldn't play gigs or record!

MS: You guys sing a lot about nuclear war. Do you think the Japanese view of nuclear war is different because of the atrocities at Hiroshima and Nagasaki?
K: Yes I sing a lot about war. We should never forget Hiroshima and Nagasaki. But fuckin' Japanese soliders killed many innocent country people. Do you know? There were country r***ing, disembowelment, killed, burned alive, Japan committed a lot of crime too. I can't write about war on this paper. If you are interested in our lyrics, please look at our record's lyrics. Never forget Japanese soliders killed too! (Here Kawakami is referring to the war crimes commuted by the Imperial Japanese army in WWII. The army pillaged through Asia targeting China and the pacific islands, killing millions of innocent civilians in an extremely brutal and genocidal fashion. These war crimes are not well known in the West and kept very quiet in Japan. The Japanese government gets away with publicly denying these past wrong doings, and our (US) government enables them by keeping silent. Read "The r*** of Nanking" by Iris Change which is an introductory text to the atrocities committed by the Japanese military. But remember, this is the fault of the Japanese government not the people-- Emily)

MS: Well thats it Kawakami! Thanks for supporting the zine and all. Any final info or comments?
K: Thanks for the interview, I'm glad you got in touch with us. We are releasing some records, if you are interested, we can trade all of them. But not bad records. I lover Pogo Punk, Crust style. No grind/death/melodic, they're boring, thank you very much!
Disclose/ Kawakami/ 408 Northriver I/ 4-5-4 Shininome-cho/ Kochi city/ 780 Japan.

NOTE: Most Disclose stuff at this point is out of print except for the BRILLIANT new 12" called Nightmare of Reality on MCR, available by Sound Pollution in the US of A. Other than that, we think the Tragedy repress has probably been most spread around lately, as well as the No More Pain LP which takes a little more searching. One of the best punk bands around, dammit.