HND-189 Her Husband Won't Give Her A Baby… So This Real 20-Year-Old Young Wife Turns To Other Guys For Adulterous Sex And Creampies Hayama Miku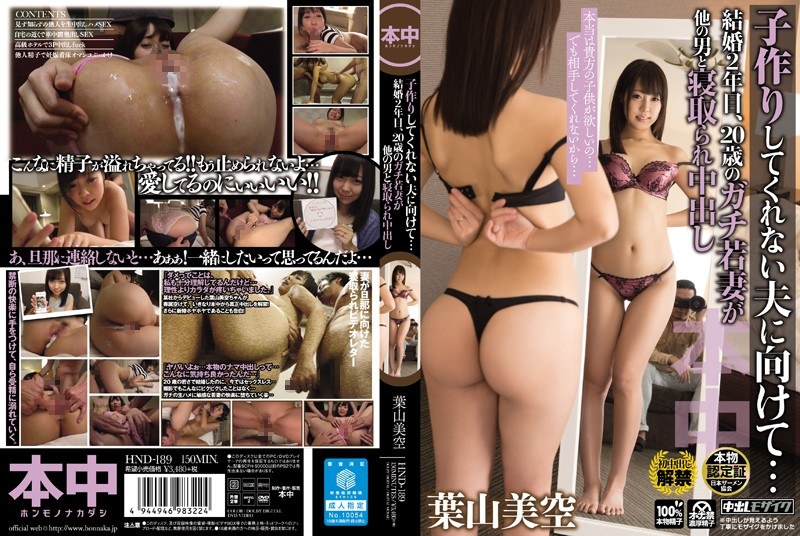 This is one of my favorite movies. You must watch it.
Miku Hayama is a 20 year old married girl. She and her husband have a sexless marriage so she goes to Honnaka and asks for filming for JAV for showing her husband.
That night she meets the first actor. They drive to a hotel to make love.
After some foreplay and getting Miku naked (her tits are big) Miku goes for shower.
Miku comes out and they continue foreplay. She sucks his cock.
When it's time for sex the man gives her a condom.
Gentlemanly for him, yes? Seems like he didn't want to give her an STD or make her pregnant.
But no it's for short while because.
He takes out the condom.
Miku rides him. He sticks his dick from behind.
He wants to cum. She tells him to not care about her husband and cum anywhere he likes. He chooses her pussy.
He goes ARRRH and shoots his cum inside her. You can see it flowing out.
Later on Kirin the director goes to a carpark near her house. She will have sex with another man in the van.
Very quickly they get into action.
He licks her pussy, she sucks his cock, then the cock goes inside the pussy.
Miku is a good rider. Ride the dick, get her nipples licked. That's breastfeeding while they fuck.
Miku arches her back and the guy attacks her pussy. He shoots inside.
Miku hasn't had enough. She wants more. So Kirin agrees to film her having a threesome.
The two guys fuck her hard.
Miku rides a dick again.
Her husband calls her phone and she lies that she's out drinking with friends.
She gets pumped until she gets cummed inside twice.
Miku wears sexy pink lingerie. Many guys crowd around. She gets them to jerk off and cum on her pussy. Then a dildo drills her pussy filled with all that cum.