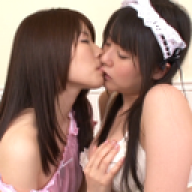 Grand Wizard
Staff member
Super Moderator
Uploader
I always use dgdecode for DVDs and I'm not letting anything mess around with the picture before I deinterlace since as you say, it'll disturb the deinterlacer, unless the source has an issue that require it and I absolutely have to, but deblocking isn't part of that.
I just provide the d2v file like so:
Vid1 = DGDecode_mpeg2source("K:\_2enc_\_ISO\LPFD-214\LPFD-214.d2v")
Here's what my rip looks like if I upscale it with madvr before saving the picture:
I think I have the right frame but it's hard to tell with the processing you're doing, the final result seems shifted a bit and your picture is 5 pixels larger, but I did crop 2 pixels from each side to get rid of black bars before encoding, although I don't see black on yours either.
I find yours to be quite a bit blurrier than mine and the png compression agrees, my screenshot is almost 500kB bigger.
Me using 10bit might help the red wall to appear less blocky since it allows for better gradients so the transition is smoother between colors. Might also be your color change that makes it seem worse in yours too.