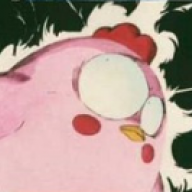 Survived to Japan
Super Moderator
[U-Jin] Kyuukyoku no Chef wa Oishinbo Papa
This is the oldest work of U-Jin that got anime adaptation. It tells the story of a restaurant chef (in a McDonaldo restaurant lol) and his pretty daughter, who take missions from his clients, mostly love revenges. The chef gets usually paid from the female clients in nature, if you know what I mean. :nosebleed:
This manga is rather cruel, as the victims usually end up being physically eliminated or mutilated, the remnants being used in a plate for the client :evil:
It was posted as a torrent long ago by
redrooster
, I'm glad to propose a direct download link now.
http://depositfiles.com/files/vpxs7nu1s