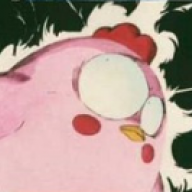 Survived to Japan
Super Moderator
[Akira Mii] Lunatic Night
:grassdance: Was looking for this ... couldn't find it on hongfire..... well at least I tried to find it on there ... is there a translated version of the manga ... available at all..
There is no translation as far as I know. The only existing raw that I uploaded, has this poor two-pages-on-one-file quality, is not really nice for making any translation, plus the fact that it's old and relatively unknown. Too bad for sure.
Coming next is a comedy series, Lunatic Night. The three volumes tell the meeting of average guy with supernatural beings (one strange masked dude and three pretty girls), he gets the girls as servants, sex and wacky stuff follows. For instance, you can see the Tower of Babel, Guile from SF2, and puns on Doraemon, Cyborg 009 and probably others.
Once more the anime adaptation didn't stick much to the manga, except for characters and situations. The infamous Sailormoon rip-off seen on the anime is only on cameo here.
http://www.mediafire.com/?mymvlca871uc8b2