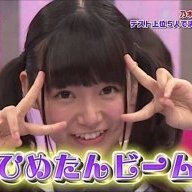 Nov 28, 2015
1,079
10,635
Idol pictures only, I don't have any other pics from this, I found all of these from different places and decided to put them together.
13MB, 35 pictures.
Lots of AKB48 members + some members from other 48 groups & some Nogizaka46 & Keyakizaka46 members.
+
Hoshina Mirei (星名美怜) from Shiritsu Ebisu Chuugaku (私立恵比寿中学)
Hashimoto Kanna (橋本環奈) from Rev.from DVL
Asakawa Nana (浅川梨奈) from SUPER☆GiRLS
Released in 2016-11-07.