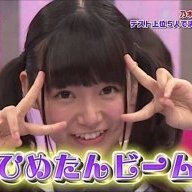 Nov 28, 2015
1,069
10,567
As promised here it is.
Momokawa Haruka (百川晴香) with her newest gravure movie called 100×10 (Hyaku Kakeru Juu)
This torrent does include the cover & disc pictures taken with a camera. I got an extra covers with her autograph
She is in an idol group called Zenryoku Shojo R (全力少女R) and has been in idol groups Seishun! Tropical Maru (青春!トロピカル丸) & Ru:Run.
Also every now and then she works as an actress in movies and series.
Released in 2019-07-07
The numerical / alphabetical code for the movie is shining-DV-14
ISO is 4.23GB
MP4 is 2.21GB
Bonus (MP4) is 149MB
You can buy it at least from these places:
Her record company's official site:
http://shining.shop-pro.jp/?pid=144302013
Or Amazon:
https://www.amazon.co.jp/100×10-DVD...1_1?keywords=百川晴香&qid=1566228276&s=dvd&sr=1-1