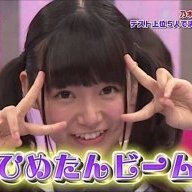 Nov 28, 2015
1,069
10,567
Kozue Nagisa (梢なぎさ) (154cm)
Teen na Hitomi - Teenな瞳 - Teen Eyes
Movie contains mild nudity, just wanted to mention it since the thumbnail picture doesn't happen to show any.
Released in 2020-01-17
MP4 is 1.00GB
ISO is 4.14GB
PS. if anyone know of any other works that she has done, with whatever name if she has other aliases, then please let us know!
You can now find two movies from here and some Cosdoki picture & short video releases.
http://www.jelly-be.com/model/?ID=0417
She used to have an Twitter account called
https://twitter.com/uni_kozue
but it's defunct now.
Bought, ripped & converted by me, which means that have an early very Merry Christmas everyone!