Aika Sawaguchi 沢口愛華​
Today is her 18th birthday, so nobody should have any problem with this. This is the first
time I've created a thread like this, though, so let me know if there's a problem.
Twitter account
Instagram account
Born: February 24, 2003
A delightfully busty teen idol who won the Miss Magazine 2018 gravure competition, and she was a member of dela until she graduated on September 27, 2020. She hasn't had any videos, other than some appendix DVDs for her magazine appearances (shared with the other girls appearing in the magazines) and some YouTube videos of her events. She's had two photobooks so far, though.
Photobooks
2019/03/17 でらあいか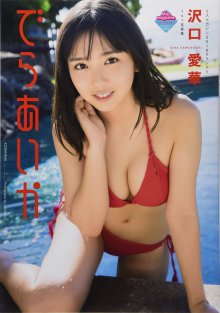 Promotional video
2020/10/28 背伸び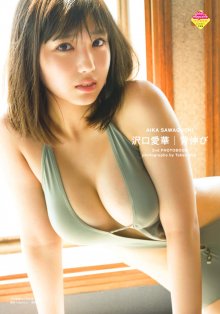 Promotional video
Event video 1
Event video 2
Calenders
2019/10/18 Sawaguchi Aika 2020 Calender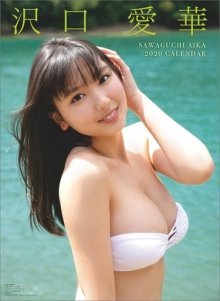 2020/11/08 Sawaguchi Aika 2021 Calender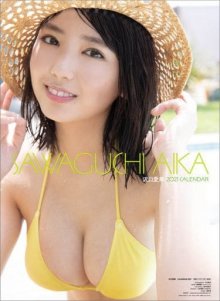 Magazine Appearances (WIP)
2018/05/21 Weekly Young Magazine No. 23
2018/07/23 Weekly Young Magazine No. 34
2018/08/18 Monthly Young Magazine No. 9
2018/11/05 Weekly Young Magazine No. 47
2018/11/12 Weekly Young Magazine No. 48
2018/11/20 Monthly Young Magazine No.12
2019/02/27 Weekly Shonen Magazine No. 11
2019/03/11 Weekly Young Magazine No. 13
2019/04/01 Weekly Young Magazine No. 16
2019/04/01 Weekly Playboy No. 13
2019/04/20 Monthly Young Magazine No. 5
2019/01/15 FRIDAY Dynamite Volume 1881
2019/05/01 Weekly Shonen Magazine No. 20
2019/05/15 FRIDAY Dynamite Volume
2019/05/15 FRIDAY GOLD Volume 1889
2019/06/17 Weekly Young Magazine No. 27
2019/07/15 Weekly Young Magazine No. 31
2019/08/05 Weekly Playboy No. 31
2019/08/16 FRIDAY Dynamite Volume
2019/08/20 Monthly Young Magazine No. 9
2019/08/26 Weekly Young Magazine No. 36/37
2019/08/31 FRIDAY Dynamite Volume
2019/09/03 Bessatsu Young Champion No. 10
2019/09/06 FRIDAY Volume
2019/09/09 BOMB! No. 10
2019/09/17 Monthly Young Magazine No. 10
2019/10/23 Weekly Shonen Magazine No. 45
2019/10/27 Weekly Young Magazine No. 46
2019/10/28 Weekly Playboy No. 45
2019/11/05 Bessatsu Young Champion No. 12
2019/11/21 Shonen Champion No. 49
2019/11/21 Platinum FLASH Vol. 11
2019/11/25 Weekly Playboy No. 47
2019/11/26 Young Champion No. 24
2019/12/23 Weekly Playboy No. 51
2020/01/08 Weekly Young Magazine No. 2・3
2020/01/16 blt graph Vol. 51
2020/01/26 Weekly Playboy No. 3・4
2020/04/25 FLASH Special Gravure BEST
2020/05/01 BRODY BEAST Vol. 2
2020/05/18 Weekly Playboy No. 19・20
2020/05/21 Weekly Shonen Champion No. 23
2020/05/25 Weekly Playboy No. 21
2020/06/01 Weekly Playboy No. 22
2020/06/02 Bessatsu Young Champion No. 7
2020/06/09 BOMB No. 7
2020/06/15 EX Taishu Vol. 190
2020/06/22 Weekly Young Magazine No. 28
2020/07/02 blt graph Vol. 56
2020/08/24 Weekly Playboy No. 33・34
2020/08/31 Weekly Playboy No. 35
2020/08/31 Weekly Young Magazine No. 38
2020/09/15 Young Champion Retsu No. 10
2020/10/05 STRiKE! (Shufu no Tomo Hit Series)
2020/10/20 Manga Action No. 20
2020/10/21 Monthly Young Magazine No. 11
2020/12/14 Weekly Big Comic Spirits 2021 No. 2
2021/01/04 Young Magazine No. 6
2021/03/09 Weekly FLASH No. 1594
2021/03/14 Gravure the Television vol.54
2021/03/26 blt graph No. 65
2021/03/29 Young Magazine No. 18
2021/04/19 Weekly Playboy No. 16
2021/04/26 Young Magazine No. 22・23
Ebook Appearances
Miss Magazine 2018 "Hanazakarino Megami-tachi" Digital Photobook
Last edited: