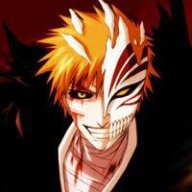 Jul 23, 2008
9,199
16,446
When it comes to art, as pertaining to cinema, the rules of content change in accordance with the deftness of the artist. Sex and nudity do not always equate to fanservice. Violence and gore become integral instead of gratutious. Good, Evil, right, wrong, innocent and corrupt all become foreign concepts interwoven in a myriad of scents to overwhelm the senses. Scenes become classics that break new ground that others can only imitate in flattery. Yet every painting can be seen differently with each set of eyes. What others see as deep and meaningful some see as mere splashes of paint on an empty canvas. Give the anime a look, judge for yourself. This anime is based on only the first 6 and a half chapters of a 15 volume manga though and its' main weakness is derived from the fact it is an incomplete tale, a song sung part the way through. This detracts from the beauty of this anime but does not efface it.
Plot
The story begins in 1629 Shizuoka during Tokugawa Tadanaga's rule. The daimyo staged a tournament where the participants fought with real steel Japanese swords rather than bokken ("wooden sword"), against his vassals' strong objection. The story revolves around the first match between the one-armed swordsman Fujiki Gennosuke and the blind samurai Irako Seigen and deals with the circumstances that led the two to participate in Tokugawa's tournament.
File Container: MKV
Video Format: h.265/HEVC [10-bit]
Video Resolution: 1920x1080
Aspect Ratio: 16.9

Audio Type: Mixed
Track 1: English 5.1 Surround)
Track 2: Japanese (2.0 Stereo)

Audio Format: AAC-HE

Subtitles:
Track 1: English (VobSub)

Source: » Bluray | MKV | h264 10-bit | 1080p | AC3 5.1 | Dual Audio | Softsubs (DHD) (17GB)
Original Uploader: [bonkai77]
Size: 4.55 GB
Directed by Hiroshi Hamasaki
Written by Seishi Minakami
Studio Madhouse
Original run July 19, 2007 – October 12, 2007
Episodes 12
The Manga this anime is based on is itself based on the first chapter of the novel Suruga-jō Gozen Jiai by Norio Nanjō. The encode of this anime is really topnotch, nice torrent.