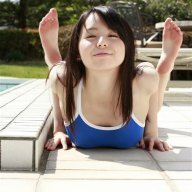 Addict of Asian female feet, shoes & femdom.
Hello

Does anybody regularly visit Tokyo or live in Tokyo and wants to meet other Akiba/JAV fans from the community. I am totally interested. Please check out my profile.

Also, does anybody have information on any events related to JAV, erotic fairs, idol public appearances , strip shows, 18+ related content/addresses, etc. etc. Also normal junior idol signing/signing events, photo-shoots. Any info/links appreciated. Even more so if we could hang out together.
Last edited: