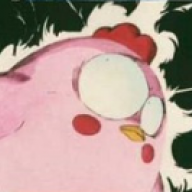 Survived to Japan
Super Moderator
As promised to someone well known here, I upload "today" my newest found in the Urotsukidoji franchise. It's a(nother) compilation movie, supposedly focusing on the evolution of "Kyo-Oh", Choujin's counterpart, through the saga. Though I would call it "scenes highlights", and not much has to do directly with Kyo-Oh.
Kyo-Oh in this blonde lady appearing in the first OAV of Uro III as a baby, and growing powers (and aging like mad) in the following episodes. With the shifting plot it's hard to understand if she is an enemy of Chojin, or a complementary being to him (like Yin & Yang).
They start the movie with the ending of the first series, then after the title going through series II and III, dropping parts 1&2 of series IV (you know how useless and gratuitous theses episodes are), finishing with part 3 of series IV, where the plot resolves in some way.
I won't spoil the ending, but I can say it's completely different from the OAV version. This was re-made to prepare for the "Kanketsuhen" series, which was cancelled after 1 episode (out of 4). What a waste indeed.
The movie IV compilation that I posted earlier had the same ending, only with a different editing. Also in that thread is more explanation about the (many) different series and versions:
http://www.akiba-online.com/forum/showthread.php?t=64153
Back to the release, the characteristics of the video are:
Original title 超神伝説うろつき童子 狂王篇 劇場V2 狂殺魔獣伝
AVI format, 929 MB, 640x480, 1h56mn06, raw, censored (colour dots)
enjoy :snicker:
Last edited by a moderator: