» News
These Japanese Disaster Shelters Look a lot Like Dragon Ball Space Pods
Nov 27, 2012 - 4:33 PM - by prophetomega


In Dragon Ball lore, when the Saiyans would dispatch their warriors to conquer or destroy distant planets, they would send them in spherical pod-like spaceships called Attack Balls. These vessels were built to keep their occupant safe across light years of intergalactic travel, and durable enough to withstand impact upon arrival. In short, they were the ultimate personal protective device.

What does this have to do with anything? Japanese auto parts manufacturer, Pond, has developed a disaster shelter called Life Armour that looks almost exactly like the Attack Balls from Dragon Ball.

And we bet you'll never guess how much it costs…


About US$5000.

What, were you expecting a higher figure?


Life Armour was created by the folks at Pond who, after seeing the devastating damage and loss in human life caused by the March 11 earthquake and tsunami last year, believe Japan needs a personal disaster shelter that is both practical and affordable.

The vessel is designed to protect up to four people and can withstand up to 9.3 tons of pressure on its body and falls from up to 25 meters.

The exterior is made from reinforced plastic and can be customized in several color schemes. The interior is cushioned with urethane foam. Altogether it measures 1.2 meters in diameter and weighs about 80 kg.

Pond also offers a number of optional items to customize your order with, such as a GPS tracker, a waterproof megaphone, emergency rations, and a solar panel that attaches to the interior of the window.

You can purchase Life Armour online from Seikoh, though you'll have to contact Pond directly if you want one shipped overseas.

While we're not sure if Pond drew inspiration from Dragon Ball's Attack Pods, you have to admit the resemblance is uncanny. If we didn't know any better, we'd accuse Pond of ripping off alien technology after discovering an abandoned Saiyan pod in the ocean…



Hey, just Sayin it could happen…

http://www.youtube.com/watch?feature=player_embedded&v=o_XLTUog7k0

Source: http://en.rocketnews24.com/2012/11/12/these-japanese-disaster-shelters-look-a-lot-like-dragon-ball-space-pods/
A month after download law, consumers spending less on music: survey
Nov 19, 2012 - 4:50 PM - by EzikialRage
Is this evidence that that the notion that illegal downloads represent lost sales is simply false?


http://www.japantoday.com/category/n...n-music-survey

TOKYO —

On Oct 1, knowingly downloading copyrighted music and video in Japan became punishable by up to two years in prison and a 2 million yen penalty.

The law was passed in June after the Japanese music industry, the second largest in the world after the U.S., reported continued financial losses, with analysts suggesting that just one in 10 downloads were legal.

Since the law came into effect, there have certainly been some changes, and many Internet users have become reluctant to click that download button for fear of receiving a hefty fine, meaning that the law has been a success in a way.

According to a recent statistical survey, however, since the law was passed, sales of music in Japan have continued to fall and consumers are actually showing less interest in music than ever before.

Livedoor News reported that the results of a consumer survey show that more than 68% of respondents spend "0 yen" on music in an average month; the highest the figure has been in almost 10 years.

The multiple choice survey asks consumers, "How much do you spend on music in an average month?" with answers ranging from "0-500 yen" to "over 10,000 yen." "0 yen" has risen significantly since 2004, while numbers of every other response have decreased each time since 2007.

Is this the effect of the new download restrictions? Has Japan's new draconian law actually had a negative effect on music sales? Or has the Japanese government simply noticed that music sales continue to fall and mistakenly pinpointed illegal downloads as the cause?

http://en.rocketnews24.com/2012/11/0...ever-on-music/
Yokohama massage parlor busted for supplying sex services…to women
Nov 15, 2012 - 9:17 AM - by pa55ion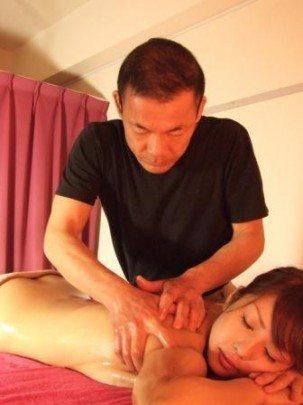 TOKYO (TR) – Kanagawa prefectural police on Tuesday re-arrested the manager of a specialty massage parlor in Yokohama for providing sexual services without proper licensing, reports the Sankei Shimbun (Nov. 13).
Officers from the Kagacho Police Station took the manager of Hibiki, Hideo Takahashi, 51, into custody after a male masseuse carried out sex acts in a private room with a female customer over a two-hour period starting at approximately 2:45 p.m. on July 18 — a violation of the Law Regulating Adult Entertainment Businesses regarding location of prohibited business.
Takahashi has reportedly admitted to the most recent charges related to the supply of sexual services in a prohibited area. "There is no doubt that we have such services," the suspect is quoted by police.
The suspect had previously been arrested for semi-indecent assault, a charge that is pending.
According to Hibiki's Web site, the parlor specializes in aroma therapy, reflexology, lymph drains (two hours for 13,000 yen), and detox sessions (18,000 yen for two and a half hours).
According to investigators, the arrest for such a charge is a first of its kind for Kanagawa and considered rare nationwide.

Source: http://www.tokyoreporter.com/2012/11/14/yokohama-massage-parlor-busted-for-supplying-sex-services-to-women/
Happy 6th Birthday
Nov 07, 2012 - 6:43 AM - by coolkevin
Happy
6TH
Birthday
long live
AKIBA
Thank You Chompy
and all those that got it started and kept it going
and of course all the posters that keep us coming back
lets have another great year
Teen Commits Suicide After Seeing His Favorite Naruto Character Die
Nov 03, 2012 - 7:25 AM - by prophetomega



Seeing an anime character die allegedly inspired a 14 year-old Russian boy to jump one hundred feet to his death, says a report.

According to Mail Online, Leonid Hmelev committed suicide after seeing his favorite character, Naruto character Itachi Uchiha, die in anime Naruto: Shippuden. The character's death reportedly saddened the boy.

It's been known since 2008 that the character dies.

'I always told him he spent too much time watching the TV—he didn't know what was reality and what was fiction anymore," said his father, Ivan.

Hmelev left home after watching Naruto: Shippuden, leaving a message on a social networking site that he was "planning an ending". His body was discovered after being missing for two days.

Obviously, there seems to be more going on here, than a simple cause and effect. Still, as Mail Online points out, Russia has the third highest teen suicide rate in the world, behind Belarus and Kazakhstan. Tragic stuff.

Russian teen leaps from apartment block after seeing his favorite Japanese cartoon character die on television [Mail Online]

- Brian Ashcraft


Source: http://updates.kotaku.com/post/34822928809/report-teen-commits-suicide-after-seeing-his-favorite
Chinese takeout: AV actress Rola Takizawa employed at Tokyo sex club
Nov 01, 2012 - 3:53 PM - by prophetomega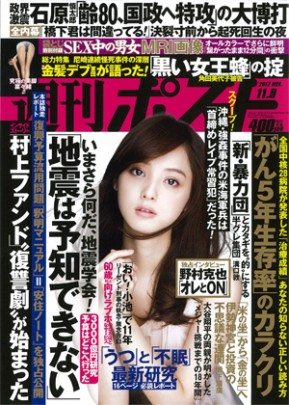 Since the start earlier this year of the territorial row over the uninhabited Senkaku Islands, which are administered by Japan but claimed by China, boycotts of Japanese products have taken place in various forms throughout the communist nation.
An item that has been untouched (well, except for one case in Zhejiang Province), reports Shukan Post (Nov. 9), has been the Japanese adult video (AV) actress — and one gal in particular just might have Chinese fans booking flights for Tokyo.
For some time, former AV actress Sola Aoi has established herself as a popular celebrity in China. The 28-year-old's account on Sina Weibo (similar to Twitter) has attracted over 13 million followers.
Yet earlier this year Rola Takizawa emerged as a challenger to Aoi as the nation's princess of porn in China.
Standing at 172 centimeters, the 21-year-old Takizawa is a real half-Japanese, half-Russian beauty. Her debut, released on the Prestige label, was uploaded to the Internet on July 12 and it reached an astounding 180,000 viewings.
Shukan Post (Sep. 7) reported that Aoi and Takizawa are engaged in a "goddess battle" for Japan's ambassador for AV. Certain to swing votes in favor of Takizawa was the revelation in October that Club Tora no Ana (on Twitter @clubtoranoana), an out-call sex service that claims offer "high quality and erotic" services, will be offering the actress to its customers in Tokyo.
Takizawa is described on the Club Tora no Ana site as a "white fairy" who shook up the AV world in 2012. The club's Twitter account announced the debut of the D-cup-sized actress on October 31.
The actress is listed under the premiere Diamond Class designation, which requires a phone call for pricing. Though Shukan Post reports that 120,000 yen will be required for 90 minutes of Takizawa's services. By comparison, ladies ranked in the lower levels demand between 33,000 and 45,000 yen for the same period.
"Chinese fans seeing this are going to cause a huge fuss," says a person with knowledge of the industry.
Shukan Post says that the announcement lit up China's Internet bulletin boards with such statements as "Let's go to Tokyo!" and "I want to capture Takizawa alive and bring her back to China."
The club specializes in AV talent, and this is not the first time that a top actress has registered her services. In 2009, starlet Maria Ozawa made her deri heru debut.
For Takizawa, she is certainly positioning herself to redefine Chinese takeout. (K.N.)
Source: "Ninki AVjo no kokyu deri heru tenshin ni naze ka hannichi chugokujin ga moriagatteiru," Shukan Post (Nov. 9, page 154)
Note: Brief extracts from Japanese vernacular media in the public domain that appear here were translated and summarized under the principle of "fair use." Every effort has been made to ensure accuracy of the translations. However, we are not responsible for the veracity of their contents. The activities of individuals described herein should not be construed as "typical" behavior of Japanese people nor reflect the intention to portray the country in a negative manner. Our sole aim is to provide examples of various types of reading matter enjoyed by Japanese.

Source: http://www.tokyoreporter.com/2012/11/01/chinese-takeout-av-actress-rola-takizawa-employed-at-tokyo-sex-club/
Japanese man pays $780K for virginity of 20-year-old Brazil woman
Oct 26, 2012 - 11:37 AM - by prophetomega
Japanese man pays $780K for virginity of 20-year-old Brazil woman, who'll use money for charity housing project
A man from Japan called Natsu fended off strong competition to secure a date with 20-year-old Brazilian student Catarina Migliorini, who is set to sell her virginity for a $780,000 after she put it up for auction online in the name of charity.





A scene from Catrina Migliorini's video introduction on the 'Virgins Wanted' auction site.

A Brazilian student is set to sell her virginity for a staggering $780,000 after she put it up for auction online.

A man called Natsu, from Japan, fended off strong competition from American bidders Jack Miller and Jack Right, and a big-spender from India, Rudra Chatterjee, to secure a date with 20-year-old Catarina Migliorini.





Catarina's bid history on the 'Virgins Wanted' auction page.

The auction ended at 4 a.m. EST this morning, and the physical education student — who said she will use the cash to build homes for poverty-stricken families — was the subject of 15 bids.
Catarina's move sparked outrage across the globe, with many claiming she was little more than a prostitute.
She also caused controversy when she revealed she would be followed every step of the way by an Australian crew for a documentary film called "Virgins Wanted."
But, she said: "I saw this as a business. I have the opportunity to travel, to be part of a movie and get a bonus with it.
"If you only do it once in your life then you are not a prostitute, just like if you take one amazing photograph it does not automatically make you a photographer.
"The auction is just business, I'm a romantic girl at heart and believe in love. But this will make a big difference to my area," she told Folha newspaper.

Catarina will be "delivered" to her buyer on board a plane between Australia and the U.S. — being interviewed before and after the sexual act.
The intercourse itself will not be filmed and Natsu will retain a right to be anonymous, without his picture appearing in the media.
Sex toys will be banned from use and a condom will be compulsory, with Catarina saying she was prepared to prove to any sceptics that she has not had sex before.
Natsu will be tested for sexually transmitted diseases prior to the encounter.




VIRGINS WANTED

A scene from Catrina Migliorini's video introduction on the 'Virgins Wanted' auction site.

A male virgin named Alexander, who is also being followed as part of director Justin Selsey's documentary, sold for $3,000 to a Brazilian woman called Nene B.
Catarina previously said she wanted to plough the money — $20,000 and 90% of the final auction price — into a non-governmental organization that will construct modern houses in her home state of Santa Catarina.
She signed up to the project two years ago when she saw an advertidement by Thomas Williams Productions looking for virgins to film.


http://www.youtube.com/watch?feature=player_embedded&v=JGYA1ip55iY

Source: http://www.nydailynews.com/news/world/brazil-woman-sells-virginity-780k-online-article-1.1190958#ixzz2AMxjHTu2
73-year-old prostitute picked up (again) by police in Yokohama
Oct 23, 2012 - 3:54 PM - by prophetomega
Suspect typically served three to four customers each week, charging 15,000 yen per session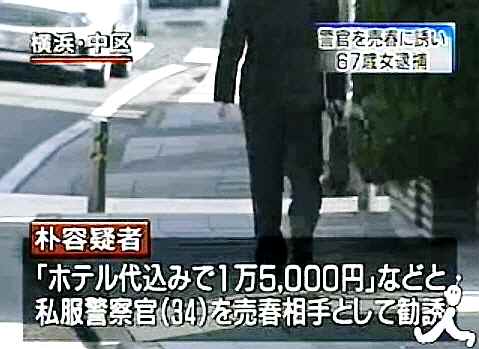 TOKYO (TR) – Kanagawa prefectural police earlier this month arrested a 73-year-old woman on prostitution charges, reports the Sankei Shimbun (Oct. 12).
At around 1 a.m. on October 12, Tamako Boku, 73, who is of Korean descent, was taken into custody by a plainclothes officer from the Isezakikei Police Station for offering sexual services in the streets of the love hotel area of Sueyoshicho in Yokohama's Naka Ward — a violation of the Anti-Prostitution Law regarding solicitation.
"My living expenses are too high," the suspect reportedly told police in admitting to the allegations.
According to investigators, Boku looks younger than her actual age, appearing to be around 50. "Up until now, she is the oldest person (brought up on these charges) that we are aware of," said an investigative source.
The suspect was picked up on similar charges six years ago, when she was 67 years old.
"She does herself up to look young," says an officer, adding that she sports golden hair, a coat, and high heels. "In the dark, her customers probably can't determine her real age."
Kanagawa prefectural police said that the suspect typically serves three to four customers each week, charging 15,000 yen (including hotel fees) per session. In an average month, she collects 150,000 yen in income.
"I used to work as a hostess," the suspect is quoted by Nikkan Sports (Oct. 13). "But as my age increased there were no shops that would hire me so I started working in prostitution."

Source: http://www.tokyoreporter.com/2012/10/22/73-year-old-prostitute-picked-up-again-in-yokohama/
It's Not Easy Being a Yakuza Boss
Oct 16, 2012 - 9:25 AM - by prophetomega


TOKYO ― These days the price of a standard civilian hit-job can run as high as $2 million. That's not the price to get the job done―that's the price if one of your underlings gets caught. The whole inflationary spiral started with one dumb yakuza stiffing McDonald's on the price of a cheeseburger in Kyoto a few years ago.
The Yamaguchi-gumi, Japan's largest organized crime group with 39,000 members and their notorious former underboss Tadamasa Goto (at left, from a 2005 video of a Yamaguchi-gumi celebration) are expected to reach a settlement this month with the family of a civilian killed in 2006. The surviving family members, represented by a group of 25 lawyers, filed the lawsuit last month, asking for ¥187 million in damages, or $2.4 million. (Tadamasa Goto was expelled from the Yamaguchi-gumi on October 14th, 2008).
A potential key witness to the murder was extradited from Thailand on Thursday and arrested on the plane back to Japan―on charges of driving without a license―by Tokyo Metropolitan Police Department detectives, who were waiting on the plane. The police also plan to question him about the killing and, of course, his lack of respect for Japan's rules of the roads.
The arrest has made all parties involved with the murder anxious to sweep the case under the table. Goto, former head of the disbanded Yamaguchi-gumi Goto-gumi, who has never faced any criminal charges for ordering the hit, is desperate to avoid being tried in civil court, and said to be willing to cut a deal. However, it's the current "CEO" of the Yamaguchi-gumi, Shinobu Tsukasa shown at right, who has the most to lose. At the time of the murder, he was in jail on gun possession charges, had no knowledge of the plan, and did not approve it, is not very happy to be cleaning up the mess. He doesn't want to pay for a crime he didn't commit or condone. Naturally. The whole thing is bad for business and terrible PR. It really damages the Yamaguchi-gumi corporate brand. And if the lawsuit actually goes to court, it could be a very bad legal precedent for "Yakuza Inc."
According to those involved with the case and police sources, in 2006 Kazuo Nozaki, a real estate agent, was in a legal dispute with a Goto-gumi front company over the property rights to a building worth ¥2 billion ($26,000,000) in the Shibuya ward of Tokyo. On March 5 of that year, three members of the Goto-gumi waited for Nozaki to walk down a street in Tokyo's upscale Kita-Aoyama area, and then one allegedly stabbed him to death with a kitchen knife. Of the three assailants, only two have been caught; criminal charges of ordering the hit were never filed against Goto.
The first hearing in the civil suit is tentatively scheduled for this month but sources on both sides say a settlement for the full amount is already being proffered by the Yamaguchi-gumi. A Yamaguchi-gumi middle manager said, "We don't want this case to go to court. It could set a bad precedent. If this lawsuit were Apple versus Samsung, we'd be Samsung."
It is an unusual lawsuit. Police sources say it represents the first time Japanese yakuza bosses have been sued for crimes pre-dating the 2008 revisions to the Organized Crime Countermeasures Law (暴力団対策法) which made it possible to hold organized crime bosses responsible for the actions of their underlings in civil court, by essentially recognizing yakuza groups as corporations.
Former National Police Agency officer and lawyer, Akihiko Shiba, says that since it is very difficult to prove the criminal responsibility of the top yakuza bosses, lawsuits are one way of seeing justice is partially served. "The Organized Crime Countermeasure Laws are administrative laws, not criminal laws. The 2008 revisions made it clear that designated organized crimes groups function like a Japanese company, and therefore the people at the top have employer liability (使用者責任)," he explains. Since 2008, there have been at least three lawsuits against top yakuza bosses for damages by lower ranking members. All were settled out of court. "For the time being the use of civil lawsuits against top yakuza certainly has a deterrent effect on the management. The damages add up after a time," Shiba says.
Others would agree.
These days, being a yakuza boss isn't what it once was. In exchange for supreme status you get blamed for everything. In August of 2008, three months after the countermeasures laws went into effect, the Yamaguchi-gumi boss found himself dealing with one of his low-ranking underling's unpaid McDonald's tab. That's because Japan's approach to its major organized crime groups (there are 22) is to regulate rather than ban. They exist in the open with office buildings, business cards, and even company songs. The yakuza are Crime Incorporated. And in Japan, the CEO has to take responsibility for the screw-ups under his command. (To see how many people a boss has to worry about, see the org chart below.)
A 38-year-old Yamaguchi-gumi member had ordered burger combo at a drive-through in Kyoto. He picked up his order, but then claimed since his meal had gotten wet in the rain, he owed nothing, and drove off clutching his burger and fries. (It's unclear whether it was a plain hamburger or a cheeseburger, accounts vary, but it was definitely not a happy meal.) Several days later, a bill arrived at the Yamaguchi-gumi headquarters in Kobe from a very angry McDonald's manager. The organization paid.
The cheeseburger compensation was just the start of a series of legal headaches for the Yamaguchi-gumi and other yakuza groups. Over time, and with additional revisions to the laws, and broader interpretations by the courts, yakuza bosses now find "employer liability" increasingly burdensome. A boss can be held liable for any damages his cohorts inflict in the course of their business activities, including extortion.
There are a number of things about the lawsuit concerning Nozaki's death that are different from anything preceding them. "If this case goes to court and the defendant loses, it could be a major setback for the yakuza," says a retired police investigator formerly with the Tokyo Metro Police, who had over 20 years experience investigating organized crime. "It opens up a whole wave of possible lawsuits to crimes pre-dating the revisions. It may even be possible to sue in cases where the criminal statue of limitations is over. For the yakuza, at least the smart ones, this lawsuit is Pandora's Box."
Yakuza expert and the author of The Yakuza and The Nuclear Industry, Tomohiko Suzuki, concurs, "This lawsuit is big news in the underworld. It won't stop the hits from happening but it will make people weigh the cost of killing an individual versus the money to be made."
The Nozaki murder is still officially unsolved and who is ultimately responsible, criminally or civilly, has not been settled. The Goto-gumi member who police suspect of receiving the orders for the hit, Takashi Kondo, was assassinated in Thailand last year after an international arrest warrant had been issued. Dead men can't be sued.
Tadamasa Goto, who is suspected but has never been charged with ordering the hits on Nozaki and Kondo, was kicked out of the Yamaguchi-gumi two years after the Nozaki murder on October 14, 2008, so his legal responsibility is unclear. Police officers call him "the father of Japan's anti-organized crime legislation" because of his willingness to approve violent attacks on ordinary citizens generated so much anti-yakuza sentiment. He also jumped ahead of U.S. citizens in July of 2001 to receive a liver transplant at UCLA after making a deal with the FBI. Goto may no longer be part of the Yamaguchi-gumi, but he's currently operating a new criminal gang under the moniker Goto Enterprises (後藤商事).
And the current Yamaguchi-gumi boss, Tsukasa, has never faced a criminal investigation for the murder because, as noted above, law enforcement sources believe (and underworld sources agree) Tsukasa never gave the order for the killing, never approved it, and was in solitary confinement when the job was done. He did finally approve the banishment of Goto, while he was still in jail, via his second in command.
A high-ranking member of the Yamaguchi-gumi, on background, feels that lawsuit this time is decidedly unfair. This member explains, "Mr. Tsukasa has never condoned the killing of a civilian. The Yamaguchi-gumi under Mr. Tsukasa forbids dealing in drugs, theft, robbery and violence against ordinary citizens―that's not acceptable. Extortion and blackmail, that's another issue. Anyway, one of the reasons the Yamaguchi-gumi finally kicked out Goto is because he continually violated even our lowest ethical standards. And now, six years after the fact, we have to clean up his mess again."
Goto may pay his share of the damages but he is balking about paying the bill for his former godfather (Oyabun), Tsukasa. Goto has supposedly told his associates, "Who do you think put up the bail money for the old man in 2005? That was my ¥1 billion ($10 million) in cash! He kicked me out of the organization. And he still hasn't paid me back. He can pay his damages out of what he owes me." In the meantime, Goto is not strapped for cash. His defiant autobiography, Habakarinagara (Pardon Me But…), was a bestseller after it was published in 2010 and his new "business ventures" are reportedly highly successful.
Attempts to reach Goto for comment, including calls to his private cell-phone were unsuccessful. Sources close to Goto said he is hiding out in Cambodia until the lawsuit is settled.
While it's certainly hard to feel any sympathy for Tsukasa, you can see why it's a headache, at least, to keep homicidal sociopaths on the payroll. All you can do is fire them―if you can't get them buried somewhere. And $2 million may seem like a drop in the bucket for a Japanese gang lord, but keep in mind with bail running around $10 to $15 million, it's getting much harder to make a dishonest living these days.



Yakuza Organization Chart by @Marikurisato

Source: http://www.japansubculture.com/its-not-easy-being-a-yakuza-boss-part-1/
What Happens to Japanese Porn Stars After They Retire? Inside the Mind of an AV Model
Oct 09, 2012 - 10:30 PM - by prophetomega


Perhaps the reason that so much fuss is made over the Japanese sex industry is that, in almost every other aspect of its society and culture, Japan is considered to be such an immensely safe, polite and altogether nice place to be.

The country whose tourists are often reputed to be among the most polite and agreeable, and where your lost mobile phone or wallet usually finds its way back to you, Japan would not be anyone's first guess when asked "Which country has a booming, recession-defying porn industry?"

Be that as it may, the Japanese AV (adult video) industry, whose revenue comprised more than 20% of worldwide sales according to a 2006 survey, continues to grow every year. And with that growth comes an increasing number of young women who aspire to work in the industry, as reported here on RocketNews24 just a couple of weeks ago.

But with so many girls taking a shot at being AV stars and entering into this seemingly glamorous but equally shady profession, how do they go about their daily lives unnoticed? And what becomes of AV stars who leave the industry?



In an interview with Atsuhiko Nakamura, author of books such as "The Nameless Women" and interviewer of literally hundreds of AV actresses, Shuplay News uncovered some startling facts about the sex industry in Japan, in particular the life of the women who become involved in making adult movies.

"Many girls enter the AV industry each year, but not necessarily all for the same reasons;" Nakamura comments, "some do it entirely for the money, while others are just comfortable with the idea of having sex in front of people and see it as any easy job. It just works for them."

The Japanese AV industry reportedly sees an astounding 6,000 newcomers each year. But surely the risk of being seen on a video would be enough to dissuade any self-respecting young woman from doing such a thing?

"With the huge number of girls working in the industry, cases of AV actresses being recognised while going about their daily lives are quite rare," says Nakamura, adding "there are plenty of cases of former AV girls who are now happily married and enjoying normal lives."

In many cases, girls do a short spell making XXX videos, and then, perhaps having earned enough to support themselves financially, or simply deciding that they have had enough, choose to leave and pursue a more orthodox lifestyle. After all, few people actively working in the porn industry are seen out shopping with their kids or taking part in PTA meetings without those around them raising a few eyebrows…

But it is here that many retired AV models hit a wall, says Nakamura, describing what he calls the "AV-nō" (lit. Adult Video brain"); the "AV Mindset" that many girls find themselves unable to shake off.

"A lot of girls find themselves unable to return to regular jobs after working as an AV model;" explains Nakamura, "they have worked in an often lucrative business, some for many years, so to go back to a standard job for a much smaller salary is not easy", he tells. "Around two thirds of retired AV models end up in the sex industry, working in hostess bars or even working as prostitutes in 'soap-land' bath houses."


It would seem that, of those thousands of girls initially seeking an easy, well-paid life as a porn-star, literally thousands of them become trapped in the sex industry afterwards.

The "AV Mindset" that Nakamura speaks of has two distinct sides to it; while there are some retired AV models who lack the skills required to work in regular jobs, and who find themselves in the strange position of feeling more comfortable in environments like hostess bars, there are also women who, despite wanting to stop making sex tapes, are unwilling to return to an everyday lifestyle and lose all the trappings and relative glamour that came from their wealthy AV lifestyle.

Nakamura compares this way of thinking to writers who, at the peak of their game being paid hundreds of dollars for articles, suddenly have the rug pulled out from under them and are forced to work for just 20 or 30 dollars per piece.

"Some writers refuse to do it out of pride or shock. Some, on the other hand, simply can't afford to go back to that and look for more lucrative work elsewhere."

Just over two years ago, former AKB48 idol Rina Nakanishi was reported to have become an AV model (link Not Safe For Work) after her sudden departure from the popular group. While some suggested that, with such a huge existing fan-base, she would see incredible success, others- perhaps more reasonably- argued that, once the novelty of seeing a former pop star perform sexual acts had worn off, Nakanishi would be left out in the cold, disgraced and jobless.

The Japanese sex industry may well be one of the biggest in the world, but it's clearly very dangerous ground to play in.

Stay in school, boys and girls.

Source: Shu Play News

http://en.rocketnews24.com/2012/10/0...t-video-model/
Japan targets illegal downloads with piracy penalties
Oct 01, 2012 - 11:21 PM - by chrisfallout
http://www.zdnet.com/japan-targets-illegal-downloads-with-piracy-penalties-7000005006/

Japan targets illegal downloads with piracy penalties

Summary: New penalties have been introduced to hit downloaders of copyright infringing files, who face up to two years in prison or fines up to nearly US$25,700.

Internet users in Japan who illegally download copyright content will face new penalties after a change to the law. They will now face up to two years in jail or up fines to two million yen (US$25,700).

Such activity has been illegal since 2010, but until now had not invoked any penalities, according to a report Sunday by BBC News.

The news agency pointed out this followed a lobbying campaign by the Recording Industry Association of Japan, which had suggested illegal media downloads outnumbered legal ones by about a factor of 10.

Currently, uploaders of copyright infringing music and videos face a maximum penalty of a 10-year prison sentence and a 10 million yen fine (US$128, 318), said BBC news.

Japan's move is the latest in a wider international crackdown on online piracy, following enforcement action such as the United States clampdown on storage service Megaupload and the arrest of members behind the Pirate Bay torrent service.
Japan Gets Its First "Snoozing with Women" Specialty Business
Oct 01, 2012 - 10:13 PM - by prophetomega
Akihabara is ground zero for Japanese manga, anime, and video games. No wonder the place caters to every nerd fantasy imaginable, such as maid cafes for guys (butler cafes for gals) as well as more adult services.

The latest business to make a splash in Japan's nerdom is always patrons to sleep with ladies. That's it, apparently. Just sleep. Um.
Located in Akihabara, it's called Soine-ya; "soine" (添い寝) means "sleeping together", and "ya" (屋) means "shop". The business's concept, however, isn't originally Japanese as website IT Media claims the idea was based on a similar business in New York. It's apparently the first of its kind in Japan.

Soine-ya is not cheap. After shelling out ¥3,000 (US$39) in membership charges, 20 minutes of "together" sleep costs another ¥3,000, while six hours can reach ¥30,000 (US$386). That's not even a full night's rest!

The nickel-and-diming, though, is mind-boggling. For example, customers must pay ¥1,000 ($13) to have the lady resting her hand on their arm for three minutes, while gazing at each other for one minute costs another ¥1,000. If you want to put your head on the lady's lap, it's three minutes for, well, ¥1,000.

Online in Japan, the reaction to Soine-ya has been one largely of bewilderment. Many Japanese net users have no idea why someone would spend all this money on such a service. "Geez, this is creepy," wrote one. "Yep, this shop is targeting stupid nerds," wrote another. Others were quick to say that those interested in Soine-ya should just visit an adult entertainment establishment, instead.






This place of business is zeroing in on emotional needs, instead of merely carnal ones. Maid cafes work in much the same way, allowing otaku the chance to chat up girls in frilly maid outfits—which is why they have often been compared to hostess bars for geeks.

Sleeping in the otaku subculture already has its own bedtime companions, those anime covered dakimakura (hug pillows). Soine-ya seems to be for those who are tired of their pillows—or just being alone. Soine-ya is selling companionship, but just not during every waking minute.

http://www.youtube.com/watch?v=9kFfX-36zSw&feature=player_embedded


Source: http://kotaku.com/5947212/japan-gets-its-first-snoozing-with-women-specialty-business
Ryushare Promotion
Oct 01, 2012 - 1:48 AM - by chompy
As of this minute, the first post for any new download on akiba-online must contain a ryushare link until further notice. You can post other hosts too, but it must include ryushare link(s).

All other rules, like the "no premium-only posts" rule or the double post rule still apply.

Posts or threads found to be violating this new rule will be deleted, and repeat offenders will see infractions followed by suspensions or worse.


This rule includes all DDL subforums.

If you see a thread or poster violating this rule, please use the report button.
Japan's first masturbation bar for women opens in Shibuya
Sep 28, 2012 - 3:17 PM - by prophetomega
A 'love and sex' bar encourages women to discuss wanking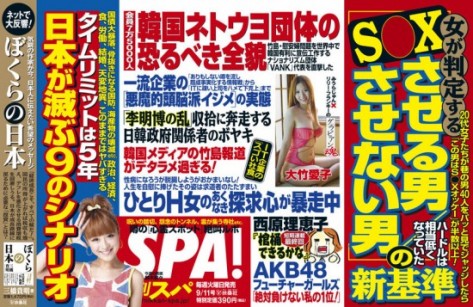 In an issue that includes special coverage of women and masturbation, Spa! (Sep. 11) takes a seat at a Tokyo bar where women are encouraged to weigh in on wanking.
Love Joule, located in the Shibuya entertainment district of Tokyo, opened in July and provides Japan, according to its Web site, with its first "love and sex bar dedicated to women."
The wall behind the counter is adorned with dozens of colorful sex toys. Megumi Nakagawa, the bar's proprietor, explains that typically a bar will have bottles of alcohol lining the wall. The appearance of vibrators, however, provides women with more confidence in speaking about spanking.
"Once they take a seat, customers are able to experience a pleasant place in which they can openly discuss masturbation," says Nakagawa. "Since most people view female masturbation as something of a mystery or taboo, it is not a usual topic at typical bars."
Nakagawa describes the atmosphere at Bar Joule as "fashionable and sexy in a different kind of space — perfect for girls-only discussions or a date."
Customers include women from the commercial sex (fuzoku) industry and adult video (AV) actresses. On the bar's Facebook page, former AV star Nayuka Mine visited in September, as did Sayo Hayakawa, the fashion model known for appearing in Koakuma Ageha.
But gents should take note that only women are allowed, with exceptions being made for men accompanied by ladies. (A.T.)
Source: "Usasa no onanii baa e itte mita," Spa! (Sep. 11, page 30)
Note: Brief extracts from Japanese vernacular media in the public domain that appear here were translated and summarized under the principle of "fair use." Every effort has been made to ensure accuracy of the translations. However, we are not responsible for the veracity of their contents. The activities of individuals described herein should not be construed as "typical" behavior of Japanese people nor reflect the intention to portray the country in a negative manner. Our sole aim is to provide examples of various types of reading matter enjoyed by Japanese.


http://www.tokyoreporter.com/2012/09/27/japans-first-masturbation-bar-for-women-opens-in-shibuya/
Osaka strip club busted for providing prostitution services
Sep 25, 2012 - 4:26 PM - by prophetomega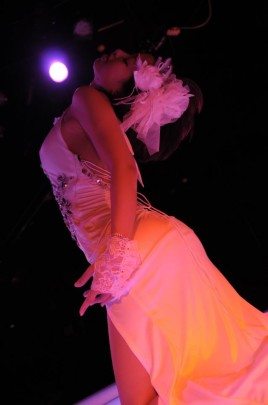 OSAKA (TR) – Osaka prefectural police on Monday announced the raid of a strip club Juso Music for providing customers with sexual services, reports the Sankei Shimbun (Sep. 24).
Kazuo Saito, 46, the manager of the club, was among 12 employees taken into custody for allowing customers to pay for separate sexual services as dispensed by female dancers in a private room — a violation of the Law Regulating Adult Entertainment Businesses. Saito has reportedly admitted to the allegations.
Juso Music (on Twitter and Facebook) charges 6,000 yen for entry, with 2,000-yen discounts being available to students, seniors, and handicapped patrons. Additional "dance tickets" could be purchased for 1,000 yen. Five tickets allowed customers to enter the private room for a 10-minute period.
Dancers also removed their underpants if a customer purchased a separate 200-yen ticket. Officers slapped nine performers, aged between 22 and 42, with additional charges for violating public decency laws.

http://newsonjapan.com/html/newsdesk/article/98529.php